I do not mind running in the dark..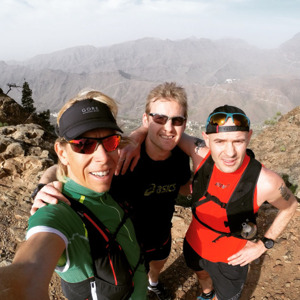 Transgrancanaria 2014: 6th place in 15.28
Transgrancanaria 2015: 4th place in 15.06

I think the hard facts say it all. I have improved my running since last year and all the hard work paid off on Saturday. But it was a tough race, and I was never sure that I would be able to make the podium (that's top five at Transgrancanaria).
The preparations for this years race have been very, very good. I moved to Gran Canaria with my family in July last year. So far, we have had a very nice time here, and I have been able to run on what I think are some of the best trails in the world. I have done two three day-trips on the Transgrancanaria course (from Agaete to Maspalomas) as a part of the preparations for the race. On January 1st, I ran with my very good friend Didrik Hermansen from Norway and Lithuanian Gediminas Grinius on a tough long run from Puerto Mogan to my apartment in Arguineguin. Little did I know that we would make three quarters of the top four on race day!
The start of the Transgrancanaria was a very special moment for me. I felt that this was a race that suited me, and that I had the chance to do well. I just had to keep my head in the right place and not do anything stupid.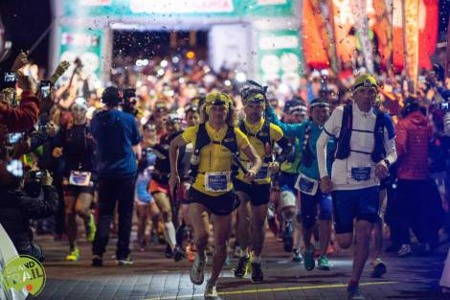 Bang! The race started pretty fast, and I have to admit that I was one of those that pushed the pace. My legs felt super good! I stayed with the front runners all the way up to the first checkpoint at Tamabada (10km). After a short stop to refuel, I caught up with Yeray Duran. Yeray and I have run together on training runs, and I knew that he is a strong runner. Yeray and I ran together for two hours or so, until he started to fall behind a bit on the steep uphills after the Tirma aid station (19,5 km). I felt sorry for him, since this is «his» race and he has huge expectations from the local running community on Gran Canaria. I later learned that Yeray stopped the race after the aid station in Artenara due to a pretty nasty foot injury.

Just before the aid station in Artenara (34 km), I caught up with the leaders at the time, Long-Fei from China and Iker Karrera. They spent longer time than me in the aid station, and I decided to run solo for a while. I have run the course from Artenara to the finish line multiple times, so I figured I could take advantage of knowing the course to a 100 percent. I ran fast, but I felt that I didn't push too hard. I got reports in both Fontanales (43,5 km), Valleseco (51 km) and in Teror (57 km) that I was well ahead of course record pace. In retrospect, it might seem stupid to run this fast. But I felt strong, I do not mind running in the dark, and I know the course way better than Long-Fei and Iker. It is a good feeling to run as fast as you like and never have to stop and second-guess where the course goes.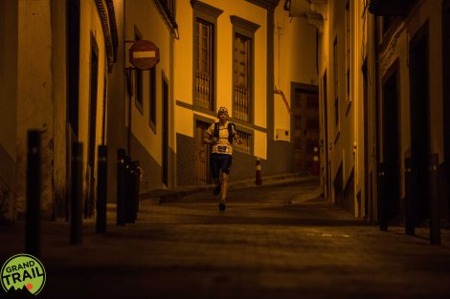 I stayed in the lead until the aid station in Talayon (63,5 km), where I got passed by Long-Fei. After that I ran by myself again, but now the reports from my crew said that Iker, Gediminas, Antoin, Didrik and Johan Lantz from Sweden were closing the gap. This came as no surprise to me, as I knew that I had a different race strategy than most of my chasers. Iker and Gediminas passed me before Roque Nublo, and Didrik did the same an hour later, at the summit of Pico de la Nieves. I have trained specifically for the long downhill from Pico de la Nieves to Maspalomas. On those training runs I have visualized running the long sections of cobblestones with tired legs, but still trying to «dance» down with a light, fast stride. Nothing of that came true on Saturday. My legs felt heavy, and it was a struggle to run as fast as I wanted. But I tried to stay positive and make the best out of the situation. It was also a bit comforting to see that ultra running «rock stars» like Iker Karrera and Anton Krupizka also had a rough time.

I passed Iker just before Tunte (94 km) and it was obvious that he struggled. Anton passed me just after Tunte, but I didn't loose sight of him. At the steep, technical downhills to Arteara (110 km) I noticed that he was just a couple minutes in front of me. In the aid station my wife told me that Anton sat in a chair looking pretty tired. I decided this was my chance for a fourth place, and ran as fast as I could to the very last aid station in Machacadora (117 km). Three kilometers after Machacadora, in Parque del Sur in Maspalomas, my wife said I had at least a 10 minutes gap to 5th place. With this in mind, I eased off the pace and more or less jogged the last section to the finish line. I knew my two daughters were waiting at the finish line, and could not wait to see them and to run with them the last hundred meters.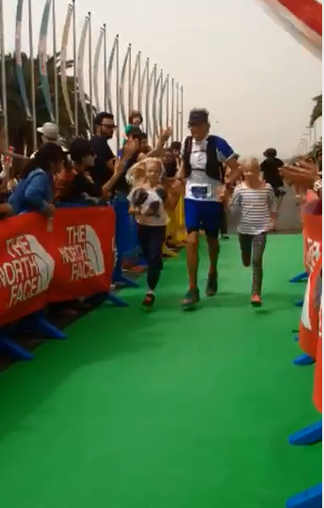 At the finish line, I heard that my very good friend and training partner, Didrik, placed second. I am so happy for you, Didrik! And to the rest of the ultra world; watch out – this guy is young and knows when to push and when to slow down!

Thanks to my wife, my dad and my sister for crewing for me during the entire race. Having a crew is a huge advantage at a race like Transgrancanaria. Thanks also to my good friends at GORE RUNNING WEAR, Tailwind Nutrition and Garmin Norway. With apparel, hydration and sport watches from you guys, running ultras is easy :-)

Gear on race day:
GORE RUNNING WEAR X-run Ultra shorts
GORE RUNNING WEAR X-run Ultra shirt
GORE RUNNING WEAR base layer long shirt (at night)
GORE RUNNING WEAR visor
GARMIN 920 XT
Petzl Nao headlamp
Salomon S-lab ultra set race vest/backpack
Pear Izumi shoes
Injinji Trail 2.0 socks

My crew refueled me with Tailwind Nutrition at the four checkpoints that I was allowed to get external help. I use two soft flasks from Salomon with about 400ml in each. I zip on Tailwind until its empty, and then use sports drinks from the organizers plus gels (GU and Mule Bar).

The Transgrancanaria course is just fantastic, and the race is well organized. If you want to run on one of the best courses in Europe – just give it a go! The sun, the nice people, the awesome fresh fruits and vegetables is a bonus :-)

Here is a good race summary from Ian Corless. And one from irunfar.com/Bryan Powell. Thank you for all the hard work you guys do for our sport!

I am currently #1 at the Ultra-Trail World Tour general ranking.

My coach/mentor, Ian Sharman